We have been adapting to this alternative version of normal and developing new ways to stay connected, while apart, as a team and community. This week we held the first of our online seminars, when Orlaith Carmody spoke to us about resilience. Orlaith gave us some insightful tools in how to flex our resilience muscle by using the GROW model- Goals, Reality, Options and Way Forward. We want to say a big thank you to everyone who joined us yesterday morning. We had 25 women, 2 dogs, 1 cat as well as numerous children in the background as we all came together to talk about resilience in life, and in political life. The need for resilience in the face of online abuse was something that was raised a fair bit during our discussions and we're delighted to have Craig Dwyer, ForaChange, join us next week. Details below.
Results are in for the available 49 seats of the 26th Seanad elections.  Fifteen women have been elected – an increase of  just one from 2016. Obviously we hoped to see this increase again but similarly to the General Election, this was not a good election for women.
Much like the rest of the country, we have been watching the figures related to the Covid-19 pandemic rise in Ireland and across the world. We would like to offer our condolences to those who have lost a loved one or who has been affected in relation to the virus and, as always, our thanks to those who are going to work so the rest of us can be at home.
Tiocfaimid slán,
Ciairín.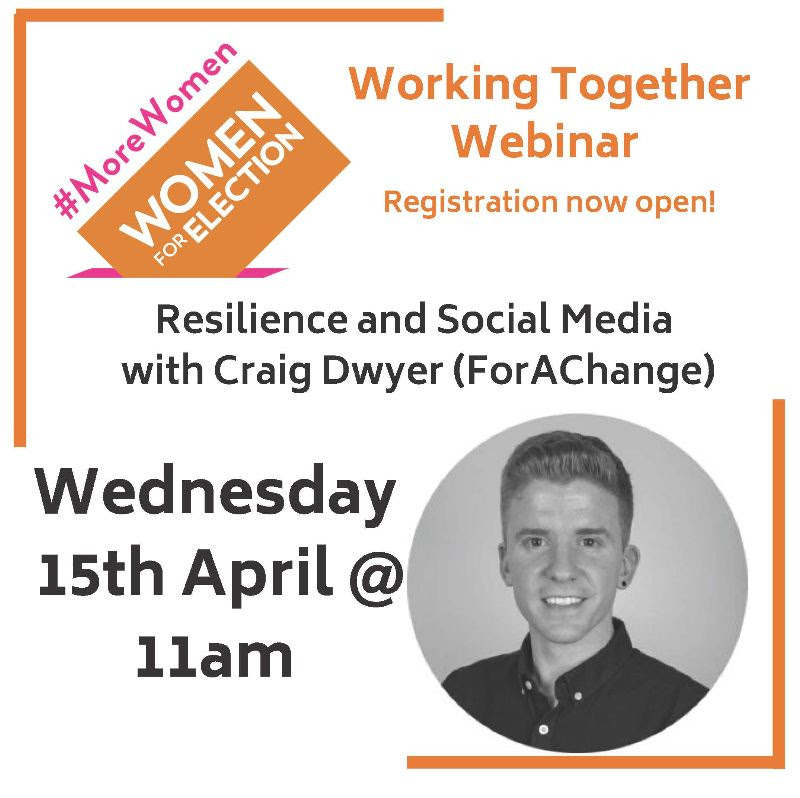 Digital Campaign Consultant and Transparent Referendum Initiative founder, Craig Dwyer, will be discussing resilience when it comes to navigating social media platforms.  This seminar will take place Wednesday, 15th April at 11am.
If you would like to join us for the session, please register here. Our WfE Webinars are free, however if you are in the position to make a small donation, you can do so here.
The training will take place through video call app Zoom, this can be downloaded here 
Looking forward to (virtually) seeing you on Wednesday!
A few facts from Seanad 2020 Elections: 
No women Senators were elected for Fine Gael, 12 men represent Fine Gael in the Seanad.
Of the 13 Fianna Fáil Senators elected, just 3 are women.
The 3 Green Party candidates were all women, 2 of whom were elected.
Sinn Féin have 2 new women in the Seanad, along with 1 male colleague.
The Labour Party have the highest number of women Senators with 4.
There are 4 Independent women elected to the Seanad.
The next Taoiseach will nominate 11 members of the Seanad, Women for Election is calling on the next Taoiseach to nominate women and ensure there are more women in the Seanad Chamber.
Read more about Seanad 2020 results here